Once the floor inside was complete we marked out and placed the sole plates for the internal walls. This allowed us to measure precisely for bathoom fittings, shower tray, compost toilet by
Separett, called the Weekend
but can be used all year round, sourced from the new supplier in the
UK called Littlehouse.
We have used compost loo's in all of our houses.
The waste is recycled with food waste in large composting bays. They compost down over a two year period and after this period can be used as fertiliser.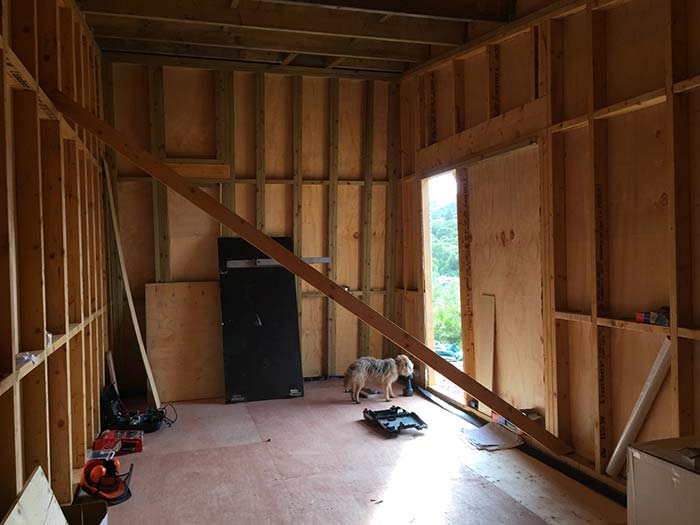 Everyone who has visited the Hen House, even when a little dubious about using a compost loo, come away with praise for its lack of smell and ease of use. The Separett models contain the waste in an internal container that is changed at regular intervals. They have an internal fan that takes any smells to an external vent. This can be powered either from the mains a battery or solar panel. The waste is contained within a compostable bag and put together with bag on the compost pile together with food waste and covered with straw.
They are waterless toilets so save a massive amount of water in use, plus you are not crazily mixing drinking water with human waste to make a smelly mix that then has to be dealt with by some other method.
Other elements of the build have also arrived on site. The external cladding is from
Marley, called Eternit Profile 6.
This is a corrugated material that is used on sheds and farm buildings. It is robust, cheap and tough. The flashings were fabricated by
Neptune in Glasgow
out of milled aluminium. I collected these on a trip through Glasgow and they just managed to fit in and on the car.
We have also collected the internal airtight membranes and tapes for walls and roof made by
Siga in Switzerland/Germany.
We used these on the Blackhouse. They are great products, easy to install even by one person and amazing at getting a very airtight structure.
The only other things required are stainless screws for the flashings the final screw fittings for the Marley, dektite silicone flashings for the light tube and chimney.
Once the windows arrive the external work fitting the windows, flashings and external sheathing will take approximately two weeks. We hope.