30/07/15 14:32 Filed in:
Floor
The floor was built off of two parallel wooden beams or rails. They were made up of six engineered wooden beams each 3.5m long and notched at their joints to overlap and be bolted onto the steel brackets and to each other.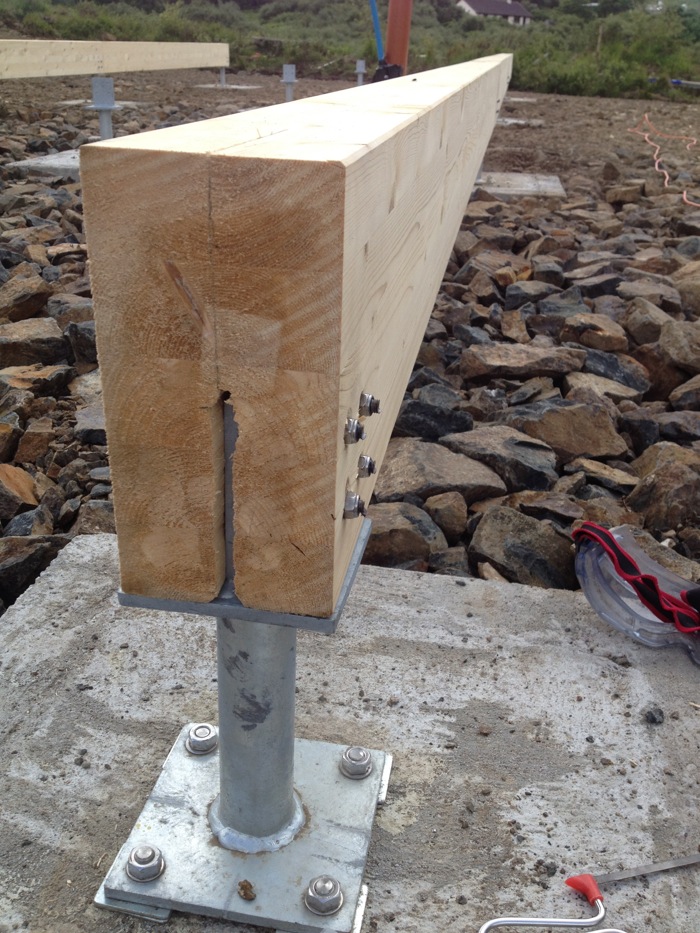 The engineers in developing their calculations asked us to add the middle set of piers to support the middle of the floor and anchor it in these points as well. Originally the drawings had shown eight piers on the external perimeter of the walls. This requirement for the extra four middle piers added considerable cost to the build and seems like massive overkill even given the extreme wind loadings on Skye.
The joists for the floor then spanned the two rails and were attached at each end by joist hangers. We also decided to add a central set of support nogins or dawns as they are called in Scotland to add extra rigidity to the floor. This was advised by the joiner who has a great deal of experience in building with wood.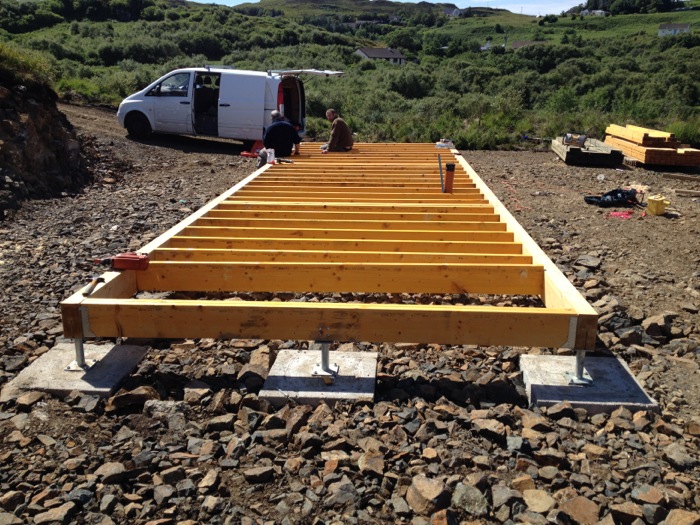 Certainly the floor feels incredibly strong and anchored to the foundations. Before starting on these builds I did a week long wooden building course at the Centre for Alternative Technology (CAT) in Wales. This was really useful in giving me the basic principles based on
Walter Segal's methods of wooden construction
. Certainly the houses we stayed in at CAT were much lighter in construction than our builds on Skye. Recently
Piers Taylor
shared a link to the
Segal method in a short online documentary, worth a look.
The studio build at Fiscavaig shares many of the techniques of Segal's method. On this build the frame is all wooden built off of a set of piers and within the structture of the build itself there will be no wet trades, tools are simple, saws, bolts, nails, string lines and levels.