26/05/15 17:45 Filed in:
Groundworks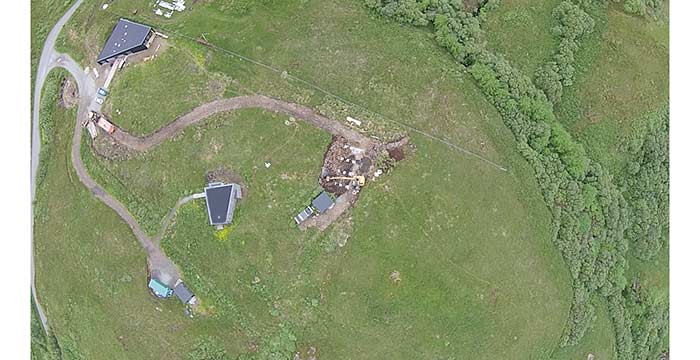 The image above shows the track after it had been put in and the digger at work infilling around the piers. We were away when Sean began. We were only away for a day. When we arrived Sean had already created nearly the whole track down to the site. We put markers for the path to take. He put the track in a much better place that hid the road from both the Hen House and the Blackhouse. The skill of Sean is amazing to watch as he knows how the land works and how the ground can be worked by his machinery.
We had prepared people that we knew would help us on the build when we were most likely to start. We also kept in contact with them when dates began to become more fixed so that they could fit us into their other work.
We were nervous about the beginnings of the groundworks as we knew how disruptive a large earth moving digger can be and we had people staying in the Hen House through the duration of the build and we wanted not to disrupt their holidays.
We were also aware that a 90m service road would have to be constructed as the site of the Studio is tucked below a drumlin in front of the Blackhouse and to the west of the Hen House. We were also nervous about disturbing ground near to the Hen House and possibly, in some way, detracting form this building and how it relates to the land around it. I was initially reluctant to put a full width track in and said I could transport building materials over site on a quad bike. The joiner, Simon, who is working with us throughout the project from foundations to finish said this would be a bad idea. It is sometimes easy to ignore skilled people who have been involved over many years on lots of builds who know how the extra transportation of tons of material can add large amounts of wasted time to the build. I am glad that I was able to listen to his wise advice as the road has saved enormous effort in getting materials close to the building.